For pricing and more info, please click Book Now!
---
PAIN MANAGEMENT
This treatment helps relieve or reduce pain for many common, chronic medical and orthopedic conditions such as migraines, back or neck pain, sciatica, whiplash, athletic injuries and more. The session will begin with a brief postural and pain assessment and may include techniques like trigger point and myofascial release, stretching to help attain maximum relief and neuromuscular therapy.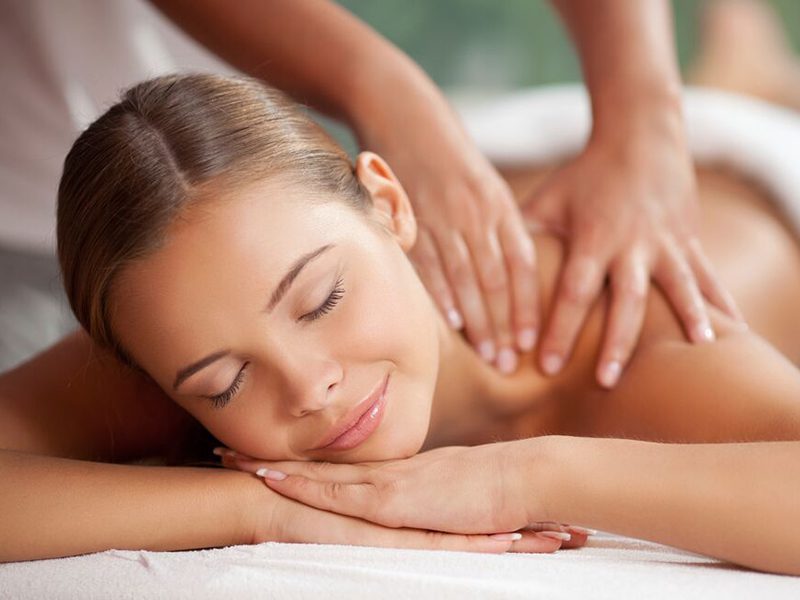 WELL BEING MASSAGE
This "classic" massage is performed with light to deep pressure and is used to reduce muscular tension, soothe sore muscles and increase circulation. Scented or unscented oil or lotion will be used.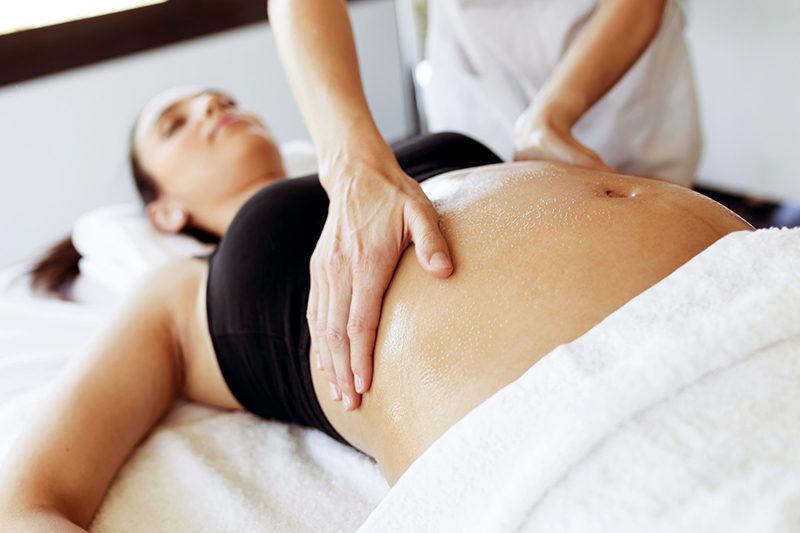 PREGNANCY MASSAGES
Either Pre-Natal/Post-Partum Massages available.This session is highly specialized treatment performed in the side-lying position. Extra care is taken to assure comfort and proper positioning for you and/or the growing baby. It is always a good idea to check with your doctor before receiving a massage.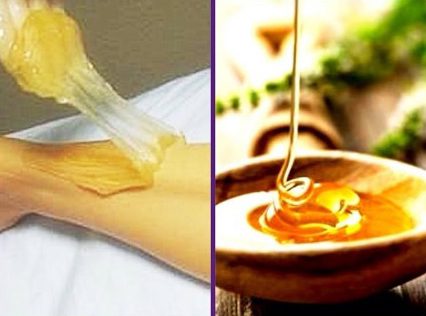 BODYWORKS SPA
Our spa services provide you extra comfort and relief. The Heaven and Earth session begins with a relaxing mineral footbath to soften your soles and prepare for foot reflexology and sea salt or sugar scrub. End in heaven with a sea salt or sugar scrub for your hands and a stress relief massage for your head, neck and shoulders. The scrubs will exfoliate, detoxify and remineralize your skin. Or try our soothing Warm Paraffin (wax) Dip for your hands and/or feet. Once the warm wax is on, the area will be wrapped in a towel and ready to be removed in ten minutes.
SPORTS & KINESIOTAPE
With Sports Massage, the therapist will work on those tight, sore and aching muscles, either before or after exercise or work. This session will include stretching techniques, deep muscular compression and bodywork. Therapeutic taping is beneficial for the following: posture control; joint function; decreasing pain and swelling; and increasing or decreasing muscle tone. We provide the tape. Price listed is per taped/injury area. Available only in Florence with Sarah Gerschutz
STICKS & STONES
The application of Warm Bamboo Sticks and/or Stones upon the body and on painful areas can be very helpful with healing and pain reduction. The soothing warmth penetrates deep into the layers of your muscles, while the therapeutic massage enhances circulation and lymph flow.
ONCOLOGY
Massage therapy is beneficial for current oncology patients and/or survivors! Book this session with our Oncology Massage trained therapist and let us customize the session to your specific health needs. Your therapist will take a health history, position you in the most comfortable manner and use the massage techniques best suited for you.
REFLEXOLOGY
Reflexology is based on the Chinese meridian theory that energy pathways flow throughout the body and that manipulation of these channels will aid healing. Start with a relaxing mineral footbath to soften the sole. The therapist will apply acupressure to various hand and foot reflexology points to stimulate energy flow, revitalize and balance the body. You may also add this service to any other service.
AROMATHERAPY
The use of essential oils with massage therapy enhances your healing potential. Choose your own blend of aromatherapy for the session. Start with an aromatic foot soak while the room begins to fill with your chosen scent. The therapist will complete the session with a full-body massage using your blended scent, such as lavendar, peppermint or eucalyptus.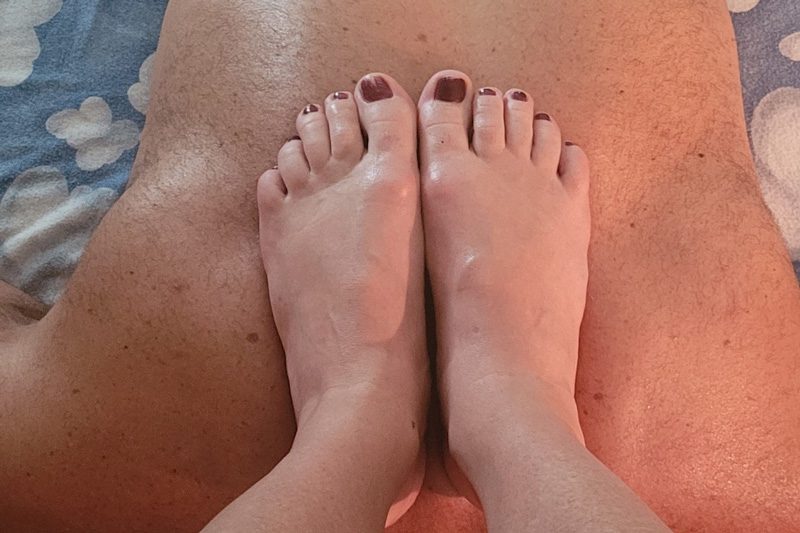 Ashiatsu
In the Japanese language, "Ashi" translates to foot and "Atsu" into pressure. Ashiatsu is a barefoot massage technique in which the therapist delivers deep, broad, and consistent pressure while utilizing their feet and body weight. Working with gravity instead of against it, Ashiatsu therapists are able to provide an effective therapeutic massage without causing pain or discomfort to themselves or the receiving client. Our therapists are Certified in "Deep Feet" Ashiatsu.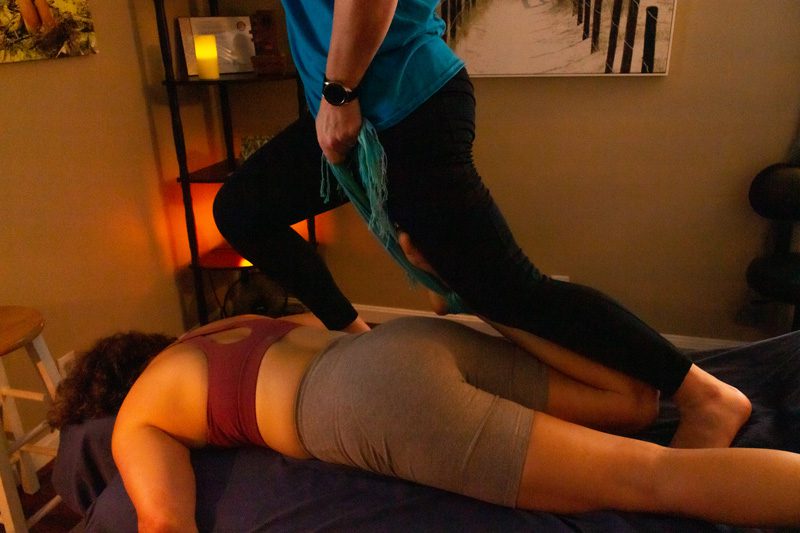 Ashiatsu-Thai
Ashi-Thai is an expression of traditional Thai stretches that have been modified utilizing the overhead bar system and therapists' body so no heavy lifting or bending occurs at the waist. This flowing and rhythmic approach to Thai massage is done on the massage table in stretchable exercise clothes such as Spandex by the receiver and the therapist. This barefoot massage technique uses deep compression effleurage strokes that glide over the body & the resulting movement may help relieve pain.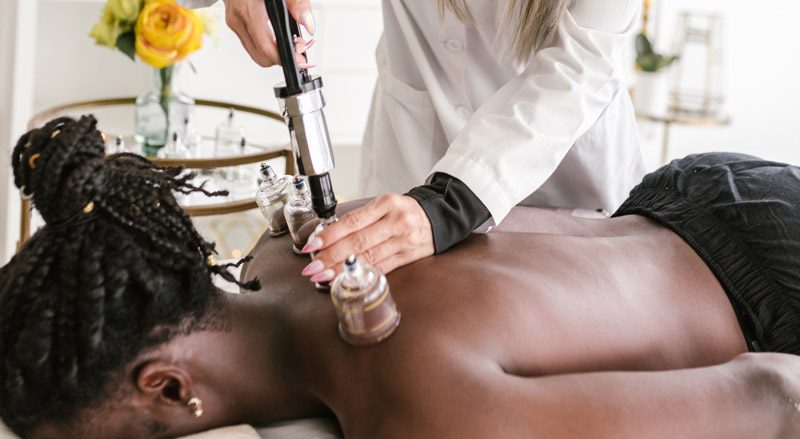 Cupping
This therapy will soften tight muscles and therapeutic attachments, loosen adhesions and lift connective tissue, bring hydration and blood flow to body tissues, and drain excess fluids and toxins by opening lymphatic pathways. Suitable for all ages and for persons with any pain and inflammation or needing general body care.