Corporate Chair Massage
The Body Works! partners with a number of community organizations and businesses to offer therapeutic chair and/or table massage for various events. For example, we have been a part of Relay for Life, Hospital Week and Employee Appreciation events. Organizations will host massage therapy at their location as an on-going program and/or a one-time event.
Our licensed professional(s) will arrive at your location, prior to the start time, with all the equipment and supplies ready to serve you, your clients and/or associates. There are multiple therapists available, if needed. Rates available upon request and will vary by number of therapists, driving distance and length of time.
Workplace Health Statistics:
More businesses offering massage therapy. (1)
60-90% medical problems due to stress. (2)
Persons with high stress were over two times more likely to be absent more than five times per year. (2)
$30,000 average cost for carpal tunnel patient. (3)
Back injuries account for one of every five workplace injuries or illnesses. (3)
Employer Benefits:
Increase Productivity
Improve Retention Rates
Decrease Absenteeism
Lessen Stress and Ergonomics Related Injuries
Improve Morale
Lower Stress Levels
Associate Benefits:
Decrease Stress
Immune System Boost
Improve Circulation
Less Muscle Pain
Provides headache Relief
Improve Thinking
Lower Blood Pressure
Enhance Flexibility
1 Reinwald, Pete. The Corporate World – More Businesses are Offering Massage Therapy as an Employee Benefit. Massage Therapy Journal. June 21, 2009.
2 Lee, David. Employee Stress: The True Cost. The John Liner Review. 1997. Vol 11(3), pg. 33-38.
3 U.S. Department of Labor. 2005.
Special Events and Conferences
Consider massage therapy for your…
Bridal or Baby Shower.
Family Reunions and Parties.
Girl's Night Out.
Concert, Musical or Theater Event.
Trade show. Corporate or Professional Organization Conference.
Any special occasion.
The TMandB therapist(s) will bring the supplies and equipment needed for your special occasion. We can offer table and/or chair massage therapy. The occasion must be at least 60 minutes and add $20 will be added to the cost for travel fees.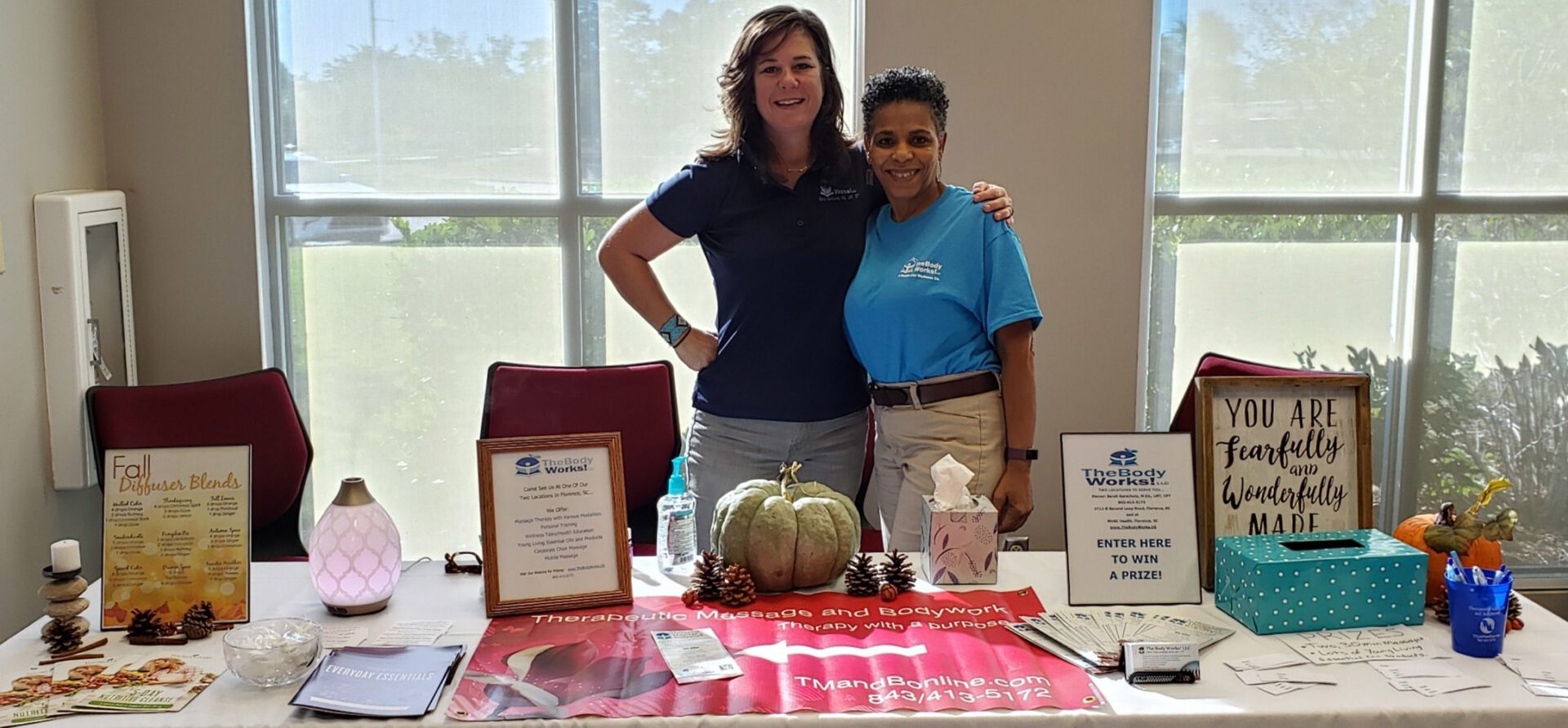 In-home and Hotel
Therapeutic Massage and Bodywork LLC (TMandB) offers professional massage therapy services in your home or hotel room. This is ideal for those persons with a hectic schedule or unable to travel. Or just surprise that special someone with a massage session in their own home.
Book your session online or text/call us. The licensed therapist will arrive before your session start time and bring all the supplies and equipment needed. All sessions must must be at least 60 minutes and add $25 will be added to the cost for travel fees.
The safety and security of our clients and therapists are very important TMandB. We will have all the client information and each client will be advised of their therapist name and arrival time. The therapist will be wearing a TMandB name tag and/or shirt. All therapists have check in and check out times with the home office for every session. It is our policy for hotel calls to advise the front desk where we are going and when we will return. If you have any questions, please let us know.